Could the Wii Vitality Sensor move to Project Café?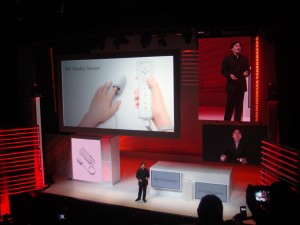 At Nintendo's last investor relations meeting, an attendee pointed out that the Wii Vitality Sensor was nowhere to be seen on the company's sales plan, and asked Iwata if it'll be released in the next fiscal year, if ever.
Iwata answered the question by explaining that the Vitality Sensor is "a totally new type of entertainment," telling us that it currently only works properly with 80% of people. The folks at Nintendo being the perfectionists they are, he wants to bring that figure up to 99% before releasing it to the market.
Iwata thinks the sensor has an awful lot of interesting potential – and frankly, I do, too – and doesn't want to give up on it. But by the sound of it, fully developing it might take quite a while – quite possibly beyond the Project Café launch. As multiple reports have shown, the Wii is definitely on its way out, and the Vitality Sensor may be better off as an unusual, attention-sparking peripheral for Café rather than yet another accessory for a console that has already saturated the market.
Do you think this is a realistic possibility?
We can deliver all the latest Wii U news straight to your inbox every morning. Want in?