Is Sonic Generations being considered for the Wii U?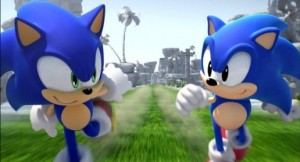 Yes, if the website TSSZ's anonymous source is to be believed. According to TSSZ a source has told them that SEGA are considering ports of Sonic Generations for the Wii U.
The source also said that the likelihood of the game making it to the Wii U will depend on the existing versions of the game selling well. As well as this the anonymous source has also mentioned that even if SEGA Generations does not make it to the Wii U there is another Sonic game being developed for the system.
Like always, I will say that the reliability of these rumours are always in doubt but a Wii U port of Sonic Generations is not too farfetched to be believed. However, a Wii U Sonic Generations game seems to go directly against the comments of SEGA's Alan Pritchard who dampened hopes of a Wii U version in an interview with GameSpot.
We can deliver all the latest Wii U news straight to your inbox every morning. Want in?