Iwata fears consumers will wait for Wii U price drop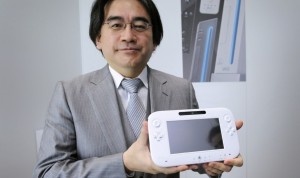 The 3DS price cut has caused quite a buzz among the media, with the 3DS price set to drop from $250 to $170. Iwata is concerned that this will make people wait for a Wii U price drop before buying the console.
"With regard to the influence on the Wii U, what we have to take most seriously is that the price markdown could damage the trust of the consumers who bought the Nintendo 3DS just after the launch," Iwata said. "I feel greatly accountable for it. Our decision of the price markdown this time has a side effect that, at the launch of the Wii U, people may feel that the price might drop in the near future if they wait. Nevertheless, we have decided to cut down the price of the Nintendo 3DS as we consider it as a necessary decision now."
Iwata also revealed that we will finally get to know the Wii U price and release date next year.
"Since the Wii U we showed you at the E3 show in June was still in the development phase without very specific proposals on the software titles, we are going to announce the release date and the price next year when we are able to explain the specific proposals. Anyway, the biggest influence is on our consumers' trust, I think."
We can deliver all the latest Wii U news straight to your inbox every morning. Want in?