Iwata: The Wii U 'is not going to be cheap'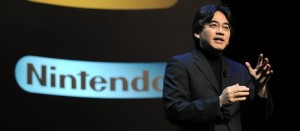 Seeing the sheer amount of awesome tech the Wii U packs, I wouldn't blame you for being worried about what it's gonna cost – even I'm concerned about it. Nintendo is refusing to provide even a ballpark figure for how much it's gonna go for, but Satoru Iwata just went on record saying that it's "not going to be cheap." In a separate interview, he also apparently said that it'll cost upwards of $250.
Earlier, Reggie mentioned that the console is going to be competitively priced with the Xbox 360 and PlayStation 3, and will offer "fantastic value" for its asking price. I doubt they're gonna pull a PlayStation 3 stunt and price it at an outrageous $600, but I wouldn't be surprised to see a tag anywhere up to $400.
I think the message here is that if you want a Wii U, you'd better start saving now.
We can deliver all the latest Wii U news straight to your inbox every morning. Want in?