Merry Christmas from Wii U Go!
Wherever you are in the world, today's a wonderful day you should spend with family and friends, enjoying your time together. Hopefully, you've woken up to find one of 2011's many great video games under your tree, or perhaps a shiny new 3DS.
Most of you have probably been bundling up to play in the snow, but my family's present to itself is a one-week trip to Mexico, and we're having a blast. Drinks at the beach, a swim-up bar, posh restaurants, the sound of ocean waves at night, beautiful nature, and…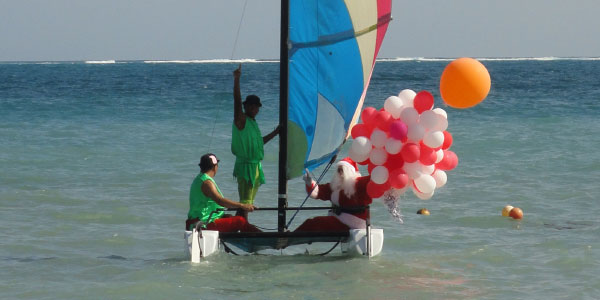 …Santa Claus on a catamaran. Yep, my year has been made.
Even if you don't celebrate Christmas, I hope you have a fantastic day and spend some quality time with the people you love. Christmas only comes once a year, so make it count! We'll be singing carols while tanning ourselves in the sun. 🙂
Merry Christmas!
P.S.: Because my Internet access is limited here, and Ruthie and Wertville are probably celebrating the festivities themselves, we may be a bit slower than usual with Wii U news.
We can deliver all the latest Wii U news straight to your inbox every morning. Want in?