Nintendo trademarks Mii U, Wii Sports U and much more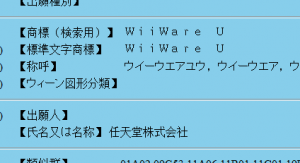 An epic amount of trademarks that Nintendo reserved in the run up to the Wii U reveal at E3 has recently been released. A lot of the trademarks probably won't evolve into physical games and are just a protective measure but there is a possibility that future Wii U games are embedded in this list. The collection of trademarks includes Mii U, Wii Play U and Wii U Sports. Carry on reading for the full list.
Wii U + logo
Mii U
Wii Fit U
Wii Sports U
Wii Music U
Wii Party U
Wii Play U
WiiWare U
Wii Balance Board U
Balance Wii Board U
Wii Wheel U
Wii Zapper U
Wii U Fit
Wii U Music
Wii U Party
Wii U Sports
Wii U Play
Wii U Ware
Wii U Balance Board
Balance Wii U Board
Wii U Wheel
Wii U Zapper
Wii Speak U
Wii U Speak
Shield Pose
We can deliver all the latest Wii U news straight to your inbox every morning. Want in?