Official Nintendo document confirms 2012 Wii successor launch & playable E3 showing
This is it. All the rumours we've been hearing over the past few days finally come together now. A PDF posted on Nintendo's own investor relations site has confirmed two things: the Wii's successor will be revealed at E3 2011, and it'll be launched next year. Here's a screenshot of the doc: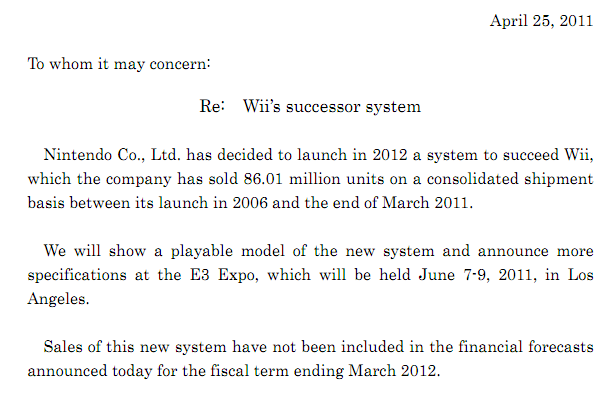 German translation after the break!
I noticed some traffic coming from Google Translate, of people trying to translate this article into German, so I'm going to do all of you German-speakers a favour and translate the above note into German properly. It might not be perfect, but it's better than anything Google Translate will give you.
Nintendo Co., Ltd. hat entschieden, 2012 ein System zur Ablöse der Wii, welche die Firma insgesamt 86,01 Millionen Mal zwischen der Einführung 2006 bis Ende März 2011 verkauft hat, zu veröffentlichen.

Auf der E3 Expo, welche vom 7. – 9. Juni 2011 in Los Angeles abgehalten wird, werden wir ein spielbares Modell des neuen Systems zeigen, und mehr Spezifikationen ankündigen.

Verkäufe des neuen Systems wurden in der heute vorgelegten Finanzprognose für das Geschäftsjahr, das im März 2012 endet, nicht inkludiert.
We can deliver all the latest Wii U news straight to your inbox every morning. Want in?