Pachter: Wii 2 set for 2011 reveal, will be backwards-compatible
All of these "news stories" coming from Michael Pachter are making me wonder whether there are any other noteworthy video game industry analysts out there. If you're one of them, and you're reading this, let me know.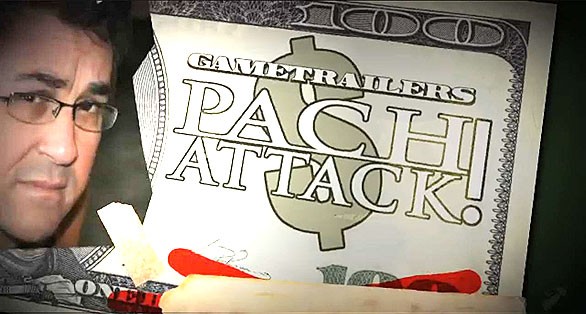 So, the latest word from Pachter (coming from the last episode of Pach-Attack) is that the Wii is not, in fact, obsolete – as long as you only buy it to play Nintendo's own games. "If you want to play Nintendo games then the Wii will never be obsolete," he says. Going on about backwards compatibility, he continues:
"Yes I think that when a Wii 2 comes out, that it will be fully backward compatible. So, when the Wii 2 comes out the only reason to buy a Wii is that you either can't afford it or you don't have a high-definition monitor and you don't need it. I think that since we are very likely going to see a Wii 2 in 2011, and, just an edit here, I've said it for 2009 and 2010 so I'm just going to keep saying it until it comes out."
You can draw your own conclusions about what he just said in the last line there. I don't think I need to say too much at this point, if you've been hearing Pachter's words for as long as I have.
On a side note, I'd like to add that Pachter said that Nintendo was going to be doomed unless they released a Wii HD or Wii 2 back in November. Now, he's contradicting his own opinion by defending Nintendo, using their fan base as his primary argument. He did, however, make it doubly clear that he still sees the PS3 as a Wii rival, but that Kinect is different enough not to be a "Wii killer."
To answer your question about being obsolete due to PlayStation Move and Kinect, Move is the Wii HD and it really does work just like the Wii does in high-definition and it will have a large line-up of games. Kinect is different, but certainly not a Wii killer. For people buying their first console, Kinect is sufficiently novel and enough to keep them from buying it. Nintendo is still selling about as many consoles as the Xbox 360 so no, I don't think the Wii is obsolete at all and I don't think it'll be obsolete until Nintendo stops making software and that isn't going to happen anytime soon.
Source: Nintendo Universe
We can deliver all the latest Wii U news straight to your inbox every morning. Want in?