Pre-order the Wii 2 today…for over $800!
The Swedish retailer Webhallen.com has put up a listing for the Wii 2, allowing you to pre-order it for the princely price of 4995 Swedish kronor. In more common currencies, that comes out to a whopping $817.05 US dollars, $779.47 Canadian dollars, or €561.63 Euros.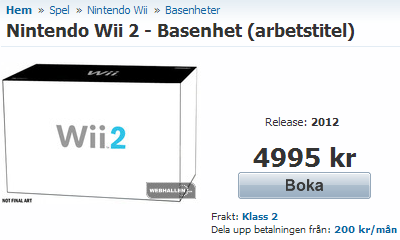 Webhallen makes it clear that "Wii 2" is only a tentative title, and lists a release window of 2012, in line with all the other rumours we've heard so far on that.
But here's where it starts to fall apart. IGN said the Wii 2 was going to be expensive, but $800 is just too much, even if the thing brews better espressos than my dedicated coffee machine. Still, if you actually end up buying it, do let us know in the comments.
We can deliver all the latest Wii U news straight to your inbox every morning. Want in?