Project Café to abandon friend codes? [Updated]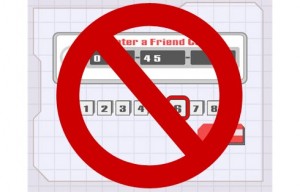 In 1UP's latest Oddcast, Sam Kennedy has been quoted as saying that Project Café will no longer use friend codes for its online system.
The origin of the information is unknown, as is its validity, but it's certainly still a tempting proposition that Nintendo might finally do away with the friend code system entirely. However, we also have no idea what they would use in the codes' place. Usernames? That seems like the most logical way to go, but who knows what Nintendo might be up to.
I think this one may turn out to be false – for one, friend codes aren't really that big a deal anymore when there's a single one for the entire system, as is the case with the 3DS. Second, I think that using friend codes on the 3DS and some other system on the Wii 2 will create unnecessary inconsistency in players' minds, as they'll have to follow two entirely different procedures to register their friends on each system.
Mark this one as "unlikely," but keep it on your radar.
Update: I listened to the podcast, and I can verify that Sam said this.
We can deliver all the latest Wii U news straight to your inbox every morning. Want in?