Wii successor to feature quad-core Marvell CPU?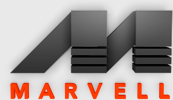 Some time ago, Sehat Sutardja, the co-founder of Marvell, slipped that "approximately 15% of the sequential increase [in quarterly sales] was due to the initial production revenue from our ARMADA application processors, primarily as a result of a major customer preparing to launch a new gaming platform."
When this statement was first heard, all signs pointed towards this new gaming platform being Nintendo's shiny new 3DS handheld. That has now been proven not to be the case, and the CPU won't be coming to the PSP2, either — or any battery-powered device, for that matter.
Engadget quizzed Marvell's Jack Kang at Mobilize 2010 about the company's new quad-core ARMADA processor, to which he replied that it used up too much power to be feasible for portable devices. This leaves only one possibility: it's going to be part of a new home console. Microsoft and Sony are treating the releases of Kinect and Move as if they were entirely new platforms, so it's very unlikely that they've currently got plans to launch the Xbox 720 or PlayStation 4. The Wii, on the other hand, is already showing signs of slowing down, with its rivals finally starting to eat into its incredible share of the console gaming pie; it's inevitable successor can't be too far away at this point.
Therefore, if Kang's statement is to be believed, Nintendo has just filed a voluminous order of quad-core ARMADAs with Marvell with the intent of using them in the Wii 2. Fact or not? You be the judge.
We can deliver all the latest Wii U news straight to your inbox every morning. Want in?