CryEngine 3 is ready for the next generation of home consoles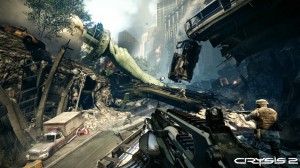 Good news, if the word on the Wii 2's incredible graphical capabilities is to be believed. In a recent interview, Crytek assured us that the latest edition of their legendaray CryEngine, CryEngine 3, was designed with the next generation of home consoles in mind.
We've been considering the next generation and what it will likely consist of for many years now, so everything we did in CryEngine 3 has been with an eye on future hardware architectures.

We've been waiting for the next generation of consoles since we released Crysis 1, as the high end PC features we invented back then will be pretty standard on next gen consoles, we believe. Developers can work with CryEngine 3 right now, running real-time GI, sub-surface scattering, movie quality camera effects, etc. in vast worlds with extreme complexity and be confident that the technology they are working with will be scalable to the next generation.

~Carl Jones, Crytek
This is awesome news because developers can start working with CryEngine 3 on computers right now, and (assuming that CryEngine 3 will play nice with the Wii 2, which Crytek seems to be confident in) know that they'll be able to get their game onto a major console platform once they're able to get development kits for it. Add Crytek to the list of companies we can expect to hear more from in the hopefully not-too-distant future…
We can deliver all the latest Wii U news straight to your inbox every morning. Want in?