Introducing the Wii U Games Database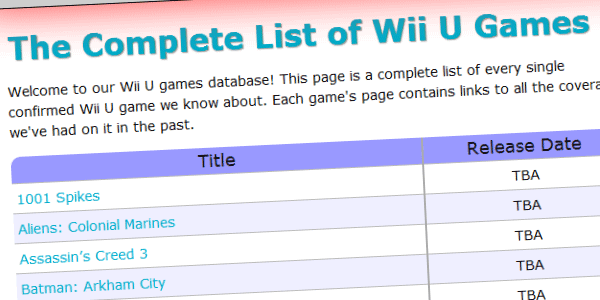 Here's what I've been working on for the past little while. Just in time for Nintendo's E3 press conference, I'm proud to unveil our Wii U Games Database!
At the moment, it is little more than a list of Wii U games interconnected with all the articles, screenshots, and videos we've posted about them. But the core code powering the database is in place, and you can expect to see lots of changes and improvements to it over time.
If there is anything in particular you'd like to see from the database, feel free to sound off in the comments and I'll see what I can do. If you notice a missing game, release date, or other piece of info, please let me know about it as well.
But even in its current state, it serves as a handy way to keep track of every single Wii U game in existence. Enjoy!
We can deliver all the latest Wii U news straight to your inbox every morning. Want in?