Killer Freaks from Outer Space was once 'Killer Rabbids' for Xbox 360/PS3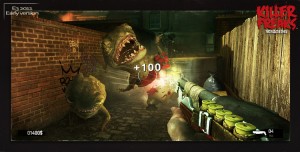 It takes a long time to make a game, so it's not uncommon for a console launch to be full of games that were once in production for another system. It seems that Killer Freaks from Outer Space is one of those games, originally having been proposed for the PlayStation 3 and Xbox 360.
More surprisingly, however, is that the game was also designed as an installment in the Raving Rabbids franchise, entitled 'Killer Rabbids'. Apparently, the franchise didn't fit into their target audience, so they removed the obvious traces of Rabbids from the game, though the imprint of the original design still remains. The only question is… was this change made back in the game's PlayStation 3 and Xbox 360 days, or does Ubisoft see a mature audience in the Wii U's future?
We can deliver all the latest Wii U news straight to your inbox every morning. Want in?