Live stream of Satoru Iwata's GDC 2011 presentation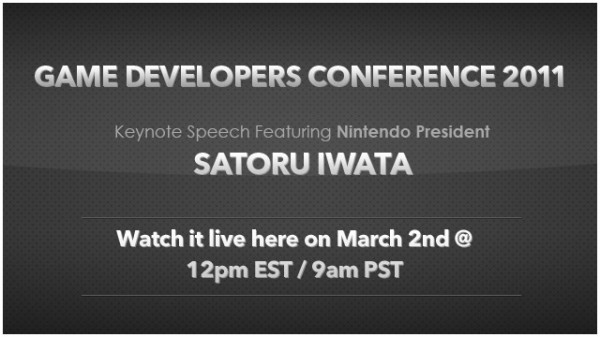 Tomorrow's looking to be a big day for Nintendo fans. As you probably already know, Satoru Iwata will present a speech at the Game Developers Conference 2011 – commonly abbreviated simply as GDC. There is almost no doubt that the 3DS will play a major role in the presentation, but many fans (yours truly included) hope to see a teaser of some kind about Nintendo's next move in the home console market. After all, the Wii – then known as "Revolution" – was first officially announced at GDC 2005.
The news today is that you'll be able to watch a live stream of Iwata's presentation, which I'm sure will be well worth your time, straight through Nintendo's own, dedicated minisite for it. I'm afraid I won't be able to cover it live, as I'll be in class long before it even starts; but I'm sure you'd rather hear any announcement directly from Iwata's mouth rather than my written words, anyway.
Presumably, Nintendo will probably record the speech and leave it up on the site to be viewed later by those of us unlucky enough to miss it live, if their E3 2010 presentation is anything to go by (which you can still watch on their website). If that doesn't happen, I'm sure there'll be more than enough recordings to go around on Youtube to check out if the live show is at a bad time for you.
If you want to read a little further into Iwata's presentation, check out GDC's official teaser page.
We can deliver all the latest Wii U news straight to your inbox every morning. Want in?