Project Cafe footage is definitely fake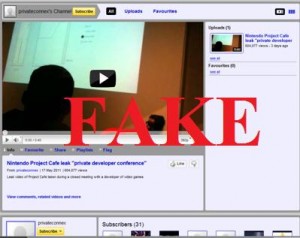 Remember that footage featuring Project Cafe? Well, new evidence has come in that the video is completely and utterly fake. The reliability of the video was questionable anyway but this new evidence seems to blow any thoughts that it was true out the window.
A French website gave students the challenge of creating a piece of multimedia work in order to bring 5,000 views to the page. The winning prize went to two students for faking an event displaying Project Cafe. And when you click the link to their work, it goes straight to the Youtube video we've all been debating over.
This seems to be heavy evidence that this video is definitely fake.
Thank you Josh for sending that in.
We can deliver all the latest Wii U news straight to your inbox every morning. Want in?