Team Ninja plans to push the Wii U "as hard as it can"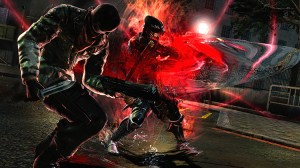 A couple of weeks ago, Peter Garza, the head of localization at Tecmo Koei, told VG247 that the Wii U version of Ninja Gaiden 3 wasn't being developed alongside the PS3 and Xbox 360 versions, and that development had only just started. He stated that this was because Team Ninja wants to push the Wii U as "hard as it can" and that they're still learning just what the hardware can do.
…And we really wanted to use whatever hardware we were on, we want to use to its full potential and really push that. Not just in spec, but the features that make that hardware unique. So for right now with Wii U, we're just starting to know what Wii U is and how we can make it fun.
So it seems that, rather than just porting the game over, Team Ninja is trying to exploit as much power and functionality as they can out of Nintendo's console. Considering what they did with Dead or Alive: Dimensions and Metroid: Other M, I can only expect this to be one of the best-looking Wii U games to be released early in its life.
We can deliver all the latest Wii U news straight to your inbox every morning. Want in?