The complete list of Wii U launch (and launch window) titles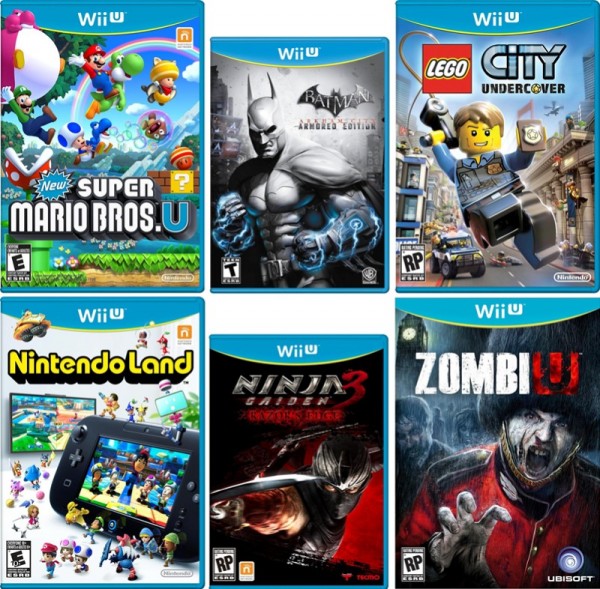 At the recent Nintendo Conference, the impressive Wii U launch lineup was revealed. You can find it after the break!
Nintendo Land- Nintendo
New Super Mario Bros. U- Nintendo
Rayman Legends- Ubisoft
Call of Duty: Black Ops 2- Activision
Assassin's Creed III- Ubisoft
ZombiU- Ubisoft
Mass Effect 3: Special Edition- Electronic Arts
Batman: Arkham City Armored Edition- Warner Brothers Games
TEKKEN TAG TOURNAMENT 2- Namco Bandai
Scribblenauts Unlimited- Warner Brothers Games
Epic Mickey 2: The Power of Two- Disney Interactive
Rabbids Land- Ubisoft
Just Dance 4- Ubisoft
Marvel Avengers: Battle for Earth- Ubisoft
Sonic & All-Stars Racing Transformed- SEGA
MADDEN NFL 13- EA Sports
NBA 2K13- 2K Games
TRANSFORMERS PRIME- Activision
Your Shape Fitness Evolved 2013- Ubisoft
Game Party Champions- Warner Brothers Games
ESPN Sports Connection- Ubisoft
Darksiders II- THQ
Even more games are coming in the following five months after launch, a period of time Nintendo refers to as the "launch window". These are the games in it:
Chasing Aurora
Cloudberry Kingdom
Little Inferno
 Mighty Switch Force HD
Nano Assault Neo
Tank! Tank! Tank!
Toki Tori 2
Trine 2: Director's Cut
Runner2: Future Legend of Rhythm Alien
007 Legends
Aliens: Colonial Marines
Ben 10 Omniverse
Cabela's Dangerous Hunts 2013
Family Party: 30 Great Games Obstacle Arcade
Funky Barn
Game & Wario*
Jeopardy!
LEGO City: Undercover
Pikmin 3
Rapala Pro Bass Fishing
Rise of the Guardians: The Video Game
The Wonderful 101
Wheel of Fortune
Wii Fit U
We also had a very exciting announcement that  Bayonetta 2 is a Wii U exclusive, developed by Platinum Games and published by Nintendo. This is not in the launch window, but is currently in the works.
We can deliver all the latest Wii U news straight to your inbox every morning. Want in?