EA's Battlefield Wii U ideas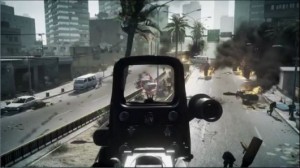 EA has been showing Nintendo a lot of love over the Wii U. They seemed to be supporting the Wii U console in full, and now EA president Frank Gibeau has shared some ideas on how one of their biggest franchises, Battlefield, could be enhanced by the Wii U's features.
What's really going to make [Wii U] stand out for core gamers is the new controller. It's touchscreen, it's elegant and it works seamlessly with the experience. We've just had a little bit of time with it and we've uncovered new ways of playing Battlefield that I'm really excited about.
He also said that "you can imagine that there are new ways of playing the game from a commander mode or for being able to drive from a different position inside of a vehicle. What I really liked about it was how good it felt in your hands. In addition to that it's super powerful. It allows you to do a lot of things that no other controller can do."
The fact that EA are considering bringing their major first person shooter to the Wii U is a pretty exciting prospect. Let's hope more third-parties follow suit.
We can deliver all the latest Wii U news straight to your inbox every morning. Want in?