Emily Rogers' last Wii 2 rumours (well, sort of)
For the last month or so the Wii 2 blog has been reporting on Emily Rogers' rumours that she has received from her sources. Some of them have been believable and some of them haven't. She has now made a list of Wii 2 rumours which she guarantees to be true or, apparently, she will never write again.
I guess the reasons why she has taken these extreme measures is because a lot of her rumours have been called fake. Now she has decided to "risk it all" as it were. I know some of you are sceptical about the news she gives but I'll tell you anyway and then you can formulate your opinion.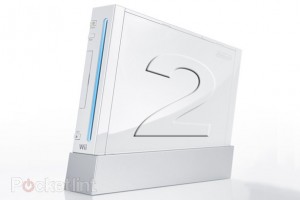 The first rumour that she guarantees to be true is that Pikmin 3 for the Wii 2 will definitely be at E3. She also mentions that there will be about 20 playable titles for the Wii 2 at E3 but does not specify whether Pikmin 3 is one of these.
Secondly, SoulCalibur V will be a launch title for the Wii 2. You might remember that I wrote an article expressing my wish for a SoulCalibur game to come back to Nintendo and whether the chances were good. However, Emily Rogers' stated that this SoulCalibur would be different from the ones set out for Xbox 360 and PS3 because it will have exclusive content. What type of exclusive content wasn't said. Link playable again perhaps?
The next claim that she makes about the Wii 2 is probably the most believable. Apparently Ubisoft wishes to release at least three launch titles for the Wii 2/Project Cafe.
She also wrote that we will notice Nintendo swaying towards more Western publishers. According to her sources Nintendo do not feel that the Japanese publishers hold as much sway over the western market as they used to. They feel like companies such as Activision, Bioware, 2K Games, Rockstar, Blizzard, Valve, Electronic Arts are "dominating the market". I don't know why these exact companies were listed or whether this is a clue of who will be making games for the Wii 2.
Next up, Nintendo want to launch the Wii 2/Project Cafe with a major first person shooter. This is hardly surprising seeing as they have risen in popularity over the years so I don't see why this wouldn't be true. I wouldn't be shocked to find out that it was Modern Warfare 3 seeing as that title is yet to be announced for a Nintendo console yet.
The next rumour seems to confirm that the Wii 2 will be getting a Super Smash Bros game. Emily Rogers' sources have told her that the team who worked on Super Smash Bros 64, Melee and Brawl will not be working on the Super Smash Bros coming to the Wii 2.
We also have a re-confirmation on one of the earliest rumours, that Rockstar are working on something for the Wii 2. Though she does mention that it might not be displayed at E3.
There will be no hard-drive and Nintendo has chosen to go with another form of storage method. Again, this is not surprising.
And last but not least there will be a significantly better online system which Nintendo had help to make and you will be able to transfer your Virtual Console titles to one Wii only.
She also makes some guarantees for what's in store for the Wii and the Nintendo 3DS but I don't want to make this article overly long. So I'll pick out a few things and you can read more by following the link at the top of the article. For the Wii, Skyward Sword, The Last Story and Xenoblade will make it before the end of 2011 but The Last Story and Xenoblade are only mentioned to be coming before 2011 to US shores. Also, Animal Crossing and Kingdom Hearts will make 2011 as well for the 3DS.
Most of these rumours are things we have already heard but from varying sources, the difference this time is that Emily Rogers' guarantees them to be true. I know that was a lot to take in but now that you've slogged through that long article, what do you make of Emily Rogers' last but not last batch of rumours about the Wii 2?
Before I rest my fingers for a thousand years I wanted to just draw to your attention that nothing was guaranteed about the controller. Hmm…
We can deliver all the latest Wii U news straight to your inbox every morning. Want in?