Survey shows that gamers want improved motion control in Wii 2 first and foremost
IndustryGamers recently conducted a survey of their readers in which they asked gamers what they would most like to see from the Wii's successor. The results are rather surprising, in that the majority of voters wished for improved motion controls, with awesome HD graphics and – get ready – augmented reality taking close second and third places. Seems self-proclaimed hardcore gamers don't hate motion control as much as angry Internet trolls make it appear.
Here's a screenshot of the results at the time of this post's publishing: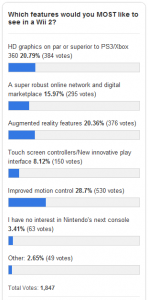 We can deliver all the latest Wii U news straight to your inbox every morning. Want in?