Visuals and side quests in Metro: Last Light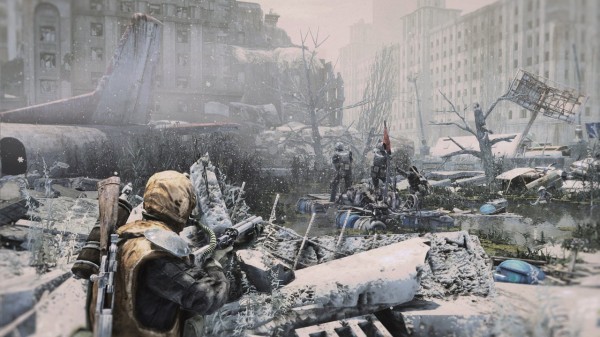 The next round of  questions for 4A games and THQ from the fans on Metro: Last Light forums have been answered. This time the questions focused on the game's visuals, side quests and weaponry.
The first question asked what visual and graphical changes there were from the previous game to Metro: Last Light. The answer was:
We've improved virtually every aspect of the visuals. Some of these changes are subtle, some will be very apparent when you play the game. We're particularly proud of the advances we've made to our outdoor environments, something we hope to show off in the not too distant future… The long answer starts to get a lot more technical, so rather than try and address that here we'll be talking more about the advances we've made to our tech in a lot more detail further down theline.
Another fan asked whether there would be more side quests in Metro: Last Light than in the first Metro title.
By side quests, we assume you mean secondary objectives (like sending the distress signal in "Outpost"). If so, then there will be about the same amount of secondary objectives in Metro: Last Light as were available in Metro 2033.
Another fan posed the question of whether weapons would break or get jammed in the game.
Some weapons overheat. For example, the "Bastard" is prone to overheating during sustained fire and you'll be able to see a plume of steam venting to warn you that this is about to happen. Keep firing and the gun will jam prompting an emergency field repair and volley of swearing from Artyom … Guns do not permanently break though.
We can deliver all the latest Wii U news straight to your inbox every morning. Want in?