Retro Studios is not working on Eternal Darkness 2 or Zelda, Wii 2 may fall prey to flood of ports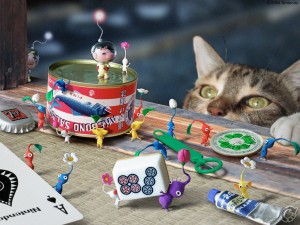 Emily Rogers has made quite the name for herself over the past week or so, starting by giving us hope for Pikmin 3 finally seeing the light of day on the Wii's successor, followed by an outpouring of tempting tidbits.
Today, her sources confirmed that Retro Studios' secret project is neither Eternal Darkness 2 nor a new Zelda game, so I guess you can cross those two off the list. She didn't say anything about a Donkey Kong Country Returns sequel, though…
Emily then warned us that there is one particular third party that is "planning to shamelessly milk the new Nintendo console with lots of PS3/360 ports." Nintendo allegedly told developers how easy it is to port games over from the Xbox 360, due to Project Café's similar architecture, and this one developer thinks it's a passable excuse to pass on making anything too original for the new system. Ubisoft and EA are on the list of developers thought to be in possession of a Project Café dev kit, so it's not surprising to hear something like this.
Lastly, Emily claims to have seen a number of screenshots of a Project Café game, and says that they are "more beautiful than any PS3/360 game I've seen," noting that Nintendo's famous expanded colour palette really shines when paired up with the system's next-generation horsepower. "You will know what game I'm talking about when E3 comes around," she teased (I bet it's Pikmin 3).
Emily also finally told us where she's getting her info from. Apparently, she's dating someone who works very closely with Nintendo, but warns us to take the info she passes on from him with a grain of salt nonetheless.
We can deliver all the latest Wii U news straight to your inbox every morning. Want in?